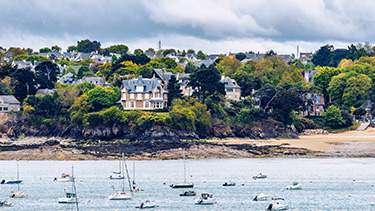 Dinard airport in France
Dinard is the largest airport in Normandy and has flights arriving from Stansted and East Midlands. It is also the airport which is closest to the French properties in Normandy which our partner agent specialises in. Our agent has chosen the areas which we believe to be the most desirable. The majority of properties for sale in Normandy are rural but our selected houses are always within easy travelling distance of one of the lovely market towns. Towns such as Granville, Villedieu, Les Poeles, Gavray, Coutances and La Haye Pesnel are all within one or one and a half hours drive time of the airport at Dinard, unless you choose to make a short deviation to view the very special Mont St. Michel, which is en route. Somehow the sight of this island Abbey never fails to thrill and buying a house in Normandy gives you the chance to visit Mont St. Michel at all times of the day and throughout the year. In my experience the summer is best avoided! For those feeling like stretching their legs after the short flight you can even walk across the sands to the Abbey, if the tide allows and if you do it with a guide!
Dinard airport has car parking, shuttle bus, taxi rank, car hire and even a full restaurant. It's easy to access the N176 from the airport and you are on your way to your French home in Normandy.