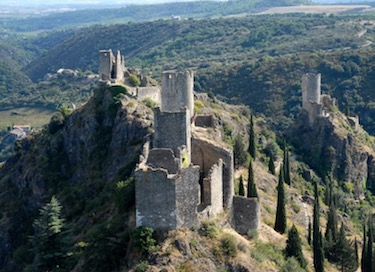 Enjoy The Mystery of The Cathares By Night
The Cathares Castles With Son Et Lumiere
Every Thursday night until the 30th August you can enjoy the excitement and mystery of the Cathares with a Son et Lumiere experience at the Chateaux Lastours. These wonderful light and sound experiences are one of the many this that the French do so well and being able to witness it in the magical surroundings of the ruined castles that make up Chateaux Lastours is magical. Chateau Lastours is situated only 15 minutes from Carcasonne and the event starts at 10.00 p.m. Lasting for 50 minutes, If you have never seen a Son et Lumiere I can't stress enough what you are missing, please try to see this one if you are anywhere in the Aude or Herault this summer. It would certainly add a memorable experience to a viewing trip to Languedoc to look for houses for sale.
The four Chateaux, making up the complex, were built on rocky outcrops in the 13th century by the Seigneurs of Cabaret and were one of the most important centres of resistance during the Crusades. When battles weren't raging the seigneurs used to receive troubadours within the castle walls who would write verses dedicated to the Chateaux. Nowadays the Chateaux are in ruins with mainly the towers still remaining but as they sit surrounded by cypress trees they certainly  provide an amazing backdrop for the Son et Lumiere.
Buying property In The Aude
Buying a home in Aude gives you access to mountains, rivers, the canal du Midi, the sea, many historic chateaux, lively market towns and all of this in an area that enjoys a Mediterranean climate and good value property. There is a good range of property available for less than 100,000€ ranging from small modern apartments to 4 bedroomed village houses. A small price to pay to live in this lovely part of France. Why not splash out on a viewing trip this month so that you can add the Son et Lumiere experience to your trip?