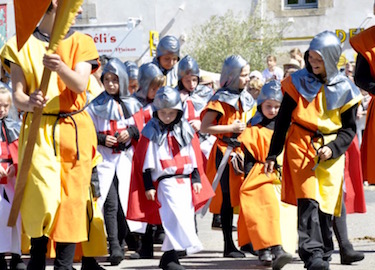 News From Pays de La Loire
Guérande Holds Its Medieval Fair
There's a good event coming up in Guérande, which is only an hour and a half away from Angers…and well worth the journey. Firstly, the medieval walled town overlooking the salt marshes and peat bogs is a fascinating place to see and on May 20th and 21st the town holds its medieval fair which makes it even more worth making the journey to. There will be over 500 people participating to make this event really special. Jugglers, street theatre, horse shows, music and dancing and all in period costume. It's when you spend a day at one of these local events that you realise how lucky (or wise) you are to own a house in France.
Guérande Home Of The Salt Industry
The town of Guérande is situated in the Loire-Atlantique on the peninsular of the same name. It is completely surrounded by its ramparts and the interior of the medieval town consists of delightful, narrow, little lanes with a wonderful selection of art and craft shops, speciality food shops and of course, bars, cafés and restaurants. It has been the home to the salt industry for hundreds of years and it is well worth visiting Terre de Sel in Pradel where you can visit the salt museum to learn all about salt harvesting, visit the salt pond and end up buying some of the best salt, favoured by many world famous chefs, plus, of course, a bag of delicious salted butter caramels! If you are feeling weary after such a good day out you can take the horse drawn carriage on a tour of the salt flats where you will be blown away by the sight on salt mounds as far as the eye can see. You can also choose to while away a pleasant hour or two in the doll museum. So, even if you can't make the medieval fair, once you own a house in France a day out in Guérande is certainly recommended.