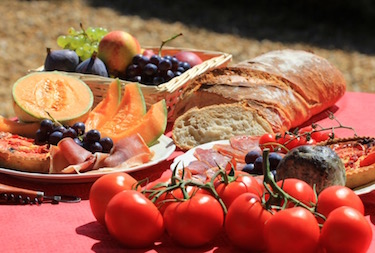 The French Picnic
Picnic Like The French!
If you are planning to own a house in France then you may need to seriously reconsider your attitude to picnics and the contents of them. In France a picnic is taken as seriously as every meal. It will happen between 12.00 and 2.00 when out of the car boot will come tables, chairs, umbrella, blankets and, of course, the hamper and icebox. The picnic does not have to be taken in an idyllic spot with wonderful views all around, the side of a road will do! What is important is that it happens around midday, although in the south of France timing is a little more flexible. The vital thing is that a picnic is the time to engage in conversation, to enjoy good food and to have time after eating to relax and savour the pleasure of a stomach full of good things just as one would with any good meal. Tempting? All you need to do is buy a house in France and settle into the French way of life to enjoy a French picnic.
So we have set the scene, now what about the menu? Mostly the food will be prepared on site, no soggy sandwiches with a packet of crisps! There is likely to be cured meats, tarts, salads….all good quality, in-season foods where the flavours, colours and textures are carefully balanced. Some of the food may have been carefully cooked at home and other dishes will have been chosen from a high quality delicatessen, of which every village and town will have at least one. Accompanying all these goodies will be large quanitites of fresh bread, together with chilled white wine and a fruity red.
If all,this sounds too good to be true…it really isn't! The love of food is a serious matter and the belief in it's importance in any social situation is inherent in the whole way of life in France. Surely it's time you checked out the wonderful houses on our website and called to make an appointment to view some properties and try a French picnic.