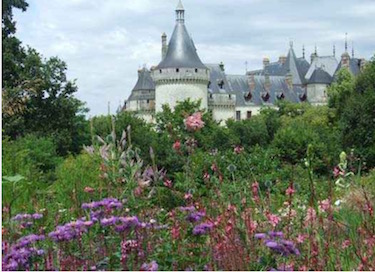 Garden Festival In The Loire
International Garden Festival, Loire
 From,the 20th April until the 5th November Chaumont-sur-Loire hosts the 26th International Garden Festival. This festival attracts visitors from all over the world to see the work of more than thirty artists and landscape artists who create contemporary gardens on a specific theme. Where exhibitors at this Festival have to show more skill and knowledge than those who exhibit at the Chelsea Flower Show is that the gardens they create not only have to look beautiful in April but must evolve throughout the summer to reach their final glory in the autumn. The backdrop for the gardens is, of course, the lovely Chateau. Not only must the gardens look at their best from April through to November, there is an added twist that in the summer months you can have candlelit tours of the lit gardens. So quite a design headache. Create a garden that starts off as something incredible in April and evolves into being something marvellous in November and add to that, it has to look good in daylight and at night time! Luckily for most people buying a house in Loire the gardens constraints will not be so major, but viewing these special gardens will certainly give you ideas of how to develop your own.
The best garden for your house in France
As the Loire valley is known as the Garden of France it is not surprising that there are many splendid gardens to see. Most of them were designed for the French aristocracy and while being wonderful to admire most of the formal, ornamental gardens are probably not going to give you many ideas for your own French garden. However, virtually all of the chateaux have amazing vegetable gardens and here you will be able to get good idea of what you could expect to grow well at your French home. Both the Chateau de Villandry and the Chateau de Chenonceau have particularly good gardens in this style but really in the Loire Valley you are never far away from an inspirational garden.