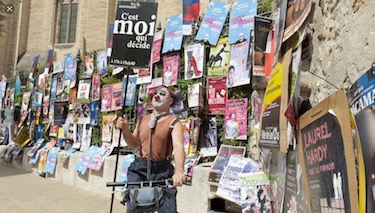 Avignon Festival
Avignon Festival 6th July to the 26th July
One of summer's highlights for me, when living in the South of France, was the Avignon Festival which is a precursor to the Edinburgh Festival. It takes place from 6th July to the 26th July with the courtyard of the Palais des Papes being at its centre. However, for me it was never the grand performances which can seat up to 2,000 people, that made the festival special, it was the ad hoc fringe events, often performed to no more than 50 people.This year there will be 50 shows with 300 performances involving 3,500 professionals and these will take place in 20 venues across the city. From the Palais des Papes to Theatre Houses, from large open places to the corner of streets, the city comes alive with weird and wonderful artists bringing, dance, music, theatre, acrobatics and art to the thousands of visitors who flock in every day.
Arriving in Avignon, probably by train, you will walk up the Main Street to the Palais des Papes and you will become very aware of the hundreds of thousands of flyers, posters and cards adorning every centimetre of wall space. Each of these, advertising some special performance. As you walk along you may well be accosted by actors, dancers, musicians and acrobats giving a tempting snippet of their performance, about to take place. which they will try to attract you to see. Avignon certainly turns into a spectacle at every corner during the festival.
Vaucluse Property & Lifestyle
An apartment in Avignon would be a wonderful thing to own. There is a small airport and TGV station for easy access from the UK and wonderful events to enjoy throughout the year. You could live very happily here.
Should you tire of the festival, the countryside around Avignon is truly beautiful with wonderful mediaeval villages nestling amongst vineyards, I have wonderful memories of finding a little local restaurant nestling in the vineyards not far from Avignon and being treated to the most wonderful seasonal meal. No decisions needed about what to eat, just sitting in the shade and enjoying each course as the elderly lady brought out from her kitchen whatever food had been good in the market that morning. Traditional food served with local wine with vineyards, lavender and cypress trees all around and the noise of the cicadas in the trees. Life really doesn't get much better than this! Buying a property in Vaucluse would give you access to all these delights.
Check out our Provence Vaucluse portfolio on our website here.