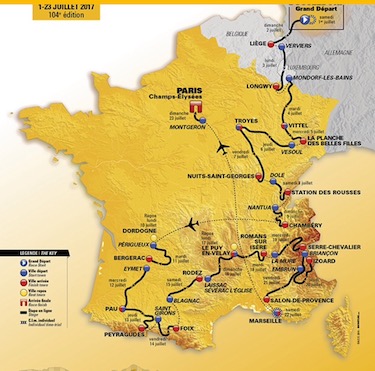 Tour de France
Tour de France Saturday July 1st to Sunday July 23th 2017
It's nearly time for the great race to begin. This year the Grand Départ is from Düsseldorf on the Ist July. The website gives you full information of when and where you might catch a glimpse of Le Tour as it races its way around France. Since its inception in 1903 it has attracted attention from all over the world. The excitement on the day Le Tour passes through your town or village is second to none. People with their picnics, rugs and chairs start to line the road hours before the racers will come through. The first cheers go up from the waiting crowd when the sponsor's vehicles arrive showering promotional goodies on the waiting spectators. Another long gap usually ensues before the support cars arrive carrying all kinds of spare bits for the bikes…and finally….after hours of waiting a roar goes up from those people just down the road. There is the swish of high speed bikes….and then….it's all over! But, however, fast the race passes you, you have no doubt that you spent all those hours partaking in a really special event.
Events such as Le Tour are all part of life when you own a house in France. And if you are not lucky enough to do so yet, then why not combine a house viewing trip with a day watching Le Tour flash by. Check out our selection of houses in many of the areas the Tour will pass through dan…put in web site link here.
Tour De France 2017, The Different Stages
Running from Saturday July 1st to Sunday July 23th 2017, the 104th Tour de France will be made up of 21 stages and will cover a total distance of 3,540 kilometres.
These stages have the following profiles:
9 flat stages
5 hilly stages
5 mountain stages including altitude finishes (La Planche des Belles Filles, Peyragudes, Izoard)
2 individual time-trials stages
2 rest days