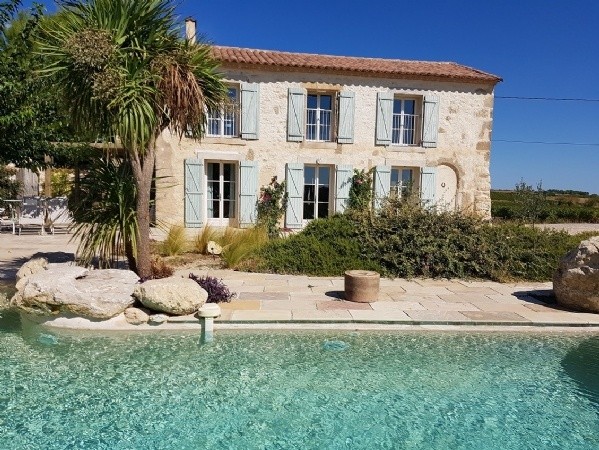 Why Dream Of Buying Property In France
Buying Property in France?
Are you one of the many people who continue to dream of buying property in France? Having had lovely holidays in France seems to create the desire in many Brits to ultimately own a French home. I believe that there are several general factors that make so many people have this French dream as well as factors particular to the individual.
What Is Special About France And Its Properties
The diversity of the French landscapes and the feeling of space:
When travelling through France people are constantly surprised at the size of the country and the huge open spaces. France is also in the enviable position of offering an immensely long coastline from rocky coves and little harbours to long sandy beaches and big surf.
There are mountains, the Pyrénées, the Alps and the Central Massif. There are long meandering rivers and thousands of lakes and, of course, woods, forests, meadows, orchards, national parks and magnificent gorges. In fact, when it comes to landscapes, France really has it all. It is really not surprising that, until recently, the French rarely travelled outside of the country for their holidays. Why would you when everything is on your doorstep?  This has to be one reason many wish to be buying property in France.
The French Climate
It may not seem such a big issue after the U.K. has enjoyed one of the best summers since records began but maybe the enjoyment of a summer with enough climatic certainty to be able to plan days out, picnics and barbecues has made people realise how important long, sunny days are to our wellbeing. Without a doubt, climate is one the factors which makes people dream of buying property in France. Not all of France has a better climate than the U.K, but once you are beyond the line created by the River Loire you are fairly certain to enjoy long, warm and sunny summers and earlier springs and later autumns.
The seasons still seem well defined in France and with its love of locally produced, seasonal food each season brings its own special delights. The first wild asparagus in spring, the abundance of the fruit and vegetables of summer, foraging for mushrooms in the autumn and chestnuts by the fire in the winter, every season in France is marked by festivals to celebrate the seasonal produce.
French Lifestyle
The better climate, the holding onto traditions, the slower pace of life, all of these make a French lifestyle very attractive to many people. As life seems to get more and more hectic in the U.K., as time seems to get scarcer, as everything seems a little harder each day there is something particularly appealing in dreaming of a move to a country where you can get away from it all. While France seems to have so many things right at the moment it obviously has its problems too but somehow 'burying your head in the sand' can be quite a good way of life.
French Property prices
Generally French property prices are at least half that of similar properties in the U.K. In some rural parts of France it is probably even fairer to say that they will only cost you one third of a similarly located U.K. property. It's very hard not to be tempted by wonderful character properties, in lovely locations and at bargain prices, this tempts many into buying property in France. Many people find that they can make their dream come true by buying in France. The original dream may never have been to buy a French property but rather the dream was to be able to spend more time with the family or to retire early but buying a cheaper property in France and releasing equity from a U.K. property means that these dreams may be able to come true.
Make Your Dream Of A French Property Come True
Financing your dream
Should you need to raise a mortgage to buy your French property you can choose to release equity in your current U.K. home or apply for a French mortgage. The advantages of applying for a French mortgage are twofold. Firstly it leaves your U.K. home safe if anything changes in your financial circumstances making it impossible for you to continue with the repayments on your French home. Secondly, you can only protect your French house purchase against a mortgage being refused if you are applying for a French mortgage. At the point of signing the first contract you will have to give details of the mortgage you are applying for and if it is a French one, a refusal from the bank will allow to to claim back the deposit you will have paid. And a bonus advantage is that French mortgage rates are very low at the moment.
At Healey Fox we work closely with BNP who have a dedicated team to assist U.K. buyers of French property. All transactions are carried out in English making it as easy as getting a U.K. mortgage and a lot safer.
Play the currency market
It's a good idea to talk to currency experts when you decide to buy a French property. At Healey Fox we have our dedicated currency exchange providers who will discuss with you the current trends in exchange rates and talk about forward buying your currency to secure a rate. It is always good to think about this early in your property search as once you agree to purchase a property the euro price will be fixed but, of course, the sterling equivalent will fluctuate, sometimes to your advantage but unless you like gambling it is safer to secure a rate so that there are no nasty surprises when you come to transferring the funds in readiness for completion.
Finding the right property in the right area
Unless you are committed to buying in a certain area it is good to take advice on which parts of France will suit your personal requirements. At Healey Fox we are always happy to have an informal chat about your French property buying requirements. Call us (0)1306 775 008.
3 Links to keep you on the right path whilst buying French property