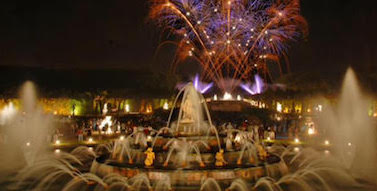 The Magic Of Versailles
The Magnificent Versailles Chateaux
For anyone heading off this summer to view French property for sale it really would make a wonderful addition to your trip to divert to Versailles. Apart from the magnificence of the Chateau and its beautiful grounds there are two special events happening all summer that I would dearly love to see.
Musical Fountains Show
During the Musical Fountains Show, which happens every day until the 29th October, you can discover and enjoy the extraordinary beauty of the Château de Versailles gardens and of its fountains playing to the tune of period music. For 350 years the success of the Fountains has never waned. This year make it your turn to discover or rediscover them, with friends or family.
Already during the reign of Louis XIV the Versailles groves were secluded open air spaces at the heart of the wooded parts of the garden. The court went there for a light meal, to listen to music or to dance. The King could satisfy his taste for gambling and theatre in these sites dedicated to entertainment and leisure.The talent of the 17th century fountain engineers and of their successors has always made the Musical Fountains Show an unforgettable and fairytale experience.
France's Incredible Fireworks
Or in the evening, until the 16th September, you can choose to enjoy a fairytale two hours and a half stroll in Château de Versailles's magnificent gardens, magically illuminated, with all the fountains playing and a grand firework as crowning point. The gardens are staged to dazzle even further. Groves and fountains are decorated with a thousand lights, surreal illuminations, and wonderful baubles. For a perfect ending to the evening, the Groupe F pyrotechnists – the fireworks magicians – will offer a royal fireworks display from the Grand Perspective. I may never have seen the musical fountains at Versailles but while living in France I have many times watched in wonder at the magnificence of Group F displays. It's almost worth buying a home in France just to see their incredible fireworks!