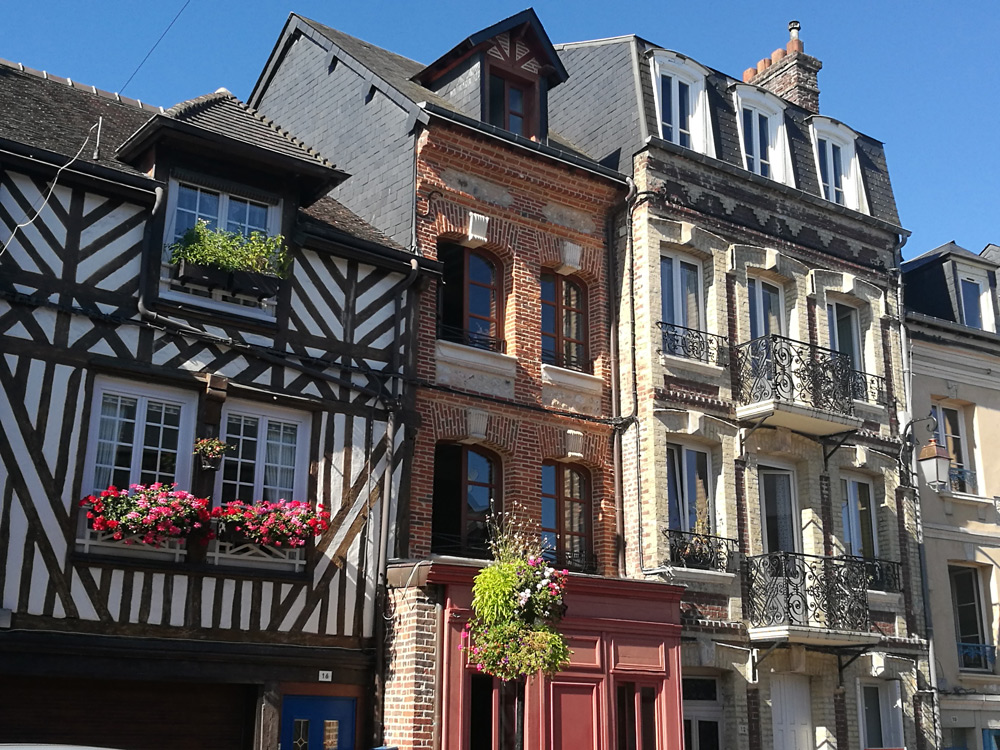 Reasons To Live And Buy Property In Normandy
Normandy: So Close But So Different
Having just spent a few days in Normandy I once again fell instantly in love with France and marvel at how it seems to have found a better way to live than we manage in the U.K. Although all of France seems to share in this special quality of life, the joy of Normandy is that it is so close to the U.K. It is amazing how one small stretch of water separating the U.K. from France can result in such a different lifestyle. Buying a French property in Normandy is an exciting proposition for anyone looking to improve their quality of life in France.
I spent 36 hours in Honfleur, a town I hadn't visited for more than 10 years. Not only does it retain all the charm I remembered from past visits, but I was thrilled to see that even more charm has been created.
Being August, Honfleur appeared to be very busy when I arrived but a few steps away from the harbour there was a sense of peaceful elegance with new pedestrianised areas with cobbled streets and large arches of flowers creating a beautiful space for the shops and restaurants which seem to flourish off the French beaten track. The tourist office offered comfortable deckchairs, where I reclined under the shade of the delightful old lavoir (wash house) and watched the reflections of the water playing on the oak roof above. My evening was spent listening to different live music in various parts of the town. An aperitif, a delightful meal, followed by one of the best ice creams I have ever had completed my evening in Honfleur.
To enjoy everything at its very best I decided to get up early the next morning and was one of only a handful of people enjoying the sleepy town. If I decided to buy a house in Normandy I would do this every day in the summer.
Harbour In Honfleur France
I strolled around the harbour and along the estuary to the lovely park and beach where I felt miles away from the bustling town I entered the day before. In fact my walk took no more than half an hour, how amazing to be able to enjoy a busy town, beautiful beach and elegant park in such a small area. A few yachts had made their way out of the harbour as I left it behind and they seemed to glide along the estuary of the River Seine following me. If you buy a French property in Normandy then I really recommend rising early in the summer months and enjoying Honfleur as it slowly wakes up; it's a very special experience.
After enjoying coffee and croissant I headed into the town's medieval centre to enjoy the architecture and to visit the famous church of Sainte Catherine. This is the largest timber made church in France and was made by the skilled boat makers of the town, it certainly is a building to wonder at. When it comes to architecture there are so many different styles of houses in Honfleur but what they have in common is that every one of them is beautifully maintained and covered in flowers. You are certainly spoilt for choice if you decide to look for French property for sale in Honfleur, but the prices do reflect the desirability of the town as a place to call home.
What I realise more than ever is that the location of a property is vital and even more so when buying French property. The difference of lifestyle between living in a bustling, beautiful French town compared to a pretty French hamlet or village is immense and much more so than the difference between U.K. town and country living. This difference makes it so essential to be sure of the lifestyle you want to enjoy before you start to look at properties. The charm of French properties, whether in lovely towns or in pretty countryside can tempt potential buyers to forget about the vital importance of location. Think carefully before you start building your dreams around an image of a house you have seen on a website.
If you would like to find out more about Normandy and the properties we have for sale there please call the Healey Fox team on (0)1306 775 008. We are always happy to have an informal chat and share our experience and knowledge of France with anyone thinking about buying a property in France.