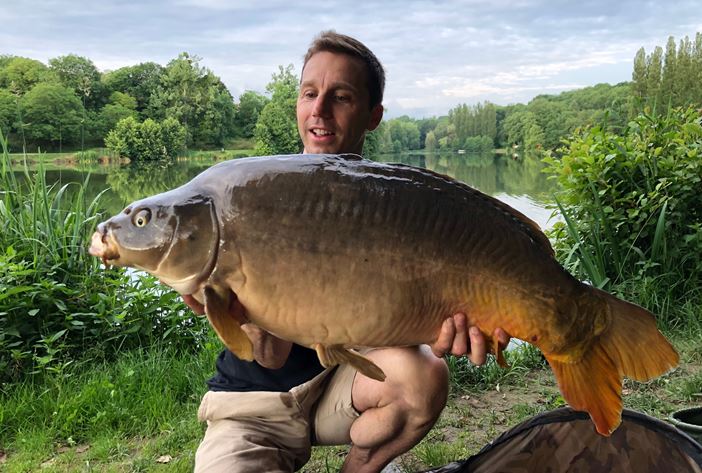 Gone Fishing In France
As a land of thousands of lakes France is an obvious destination for anglers. If you are a dedicated fisherman and planning to buy a property in France then perhaps it's a good idea to contemplate looking for a house near a lake, or even buying your own lake.
Fishing In France – Trip to Deux Servres
I have just come back from a superb fishing trip in the Deux Sevres where we camped just 5km from Celles-sur-Belle, which is a pretty and lively village/small town in the Deux-Sevres, Poitou Charentes with a supermarket, bakers and a few restaurants. When we could tear ourselves away from the lake shore we really enjoyed visiting Melle, a livelier town and only a 15km drive along the peaceful roads of the Deux Sevres.
I can certainly recommend looking for French property for sale in Deux Sevres if you enjoy a relaxing atmosphere combined with very good fishing. To allow us to fish for carp and other fish in the lake, we had to buy an annual fishing licence, which you can buy here: www.cartedepeche.fr. A carte départementale for 76 € allows you to fish in one Departement or a carte interfédérale for 96 € allows you to fish across all of France. We opted for the latter in case we decided to hop over to a new lake in a different departement.
The locals were super friendly and very keen to see a British anglers' approach to fishing their lakes. The garde de peche did not make a single visit all week, so we were left very much in peace to catch some amazing carp.
Buying French property in Deux Sevres
Deux Sevres is the most northern department in Poitou Charentes. It is a peacefully rural departement with some pretty French market towns and villages but very little industry or large scale commerce to offer employment to the local population. This brings good news for anyone looking to buy a French property as it means that house prices are exceedingly low. There is a range of property from barns ripe for conversion, detached little cottages, farmhouses and some impressive village and town houses.
We currently offer a number of properties for sale at less than €50,000, some of which need renovating and over 350 French properties for less than €100,000. Habitable houses are usually ready to move into but may require some modernisation of the kitchen and bathroom if you want something better than a French rural house offers.
This lovely habitable cottage is typical of many available in Deux Sevres and similar properties are on the market for less than €100,000.
If you have a slightly higher budget then there is a good selection of a detached 3 or 4 bedroomed farmhouses like this one, often with a second property for guests or to produce income. Similar houses to this are on the market for less than €200,000.
View Properties In Deux Sevres
Buying A Fishing Lake In France
If you are more interested in fishing than in home ownership then you can always buy your own fishing lake. We always have a few on the market, although they are very popular with Francophile anglers and sometimes sell quickly. Limousin is a good hunting ground for anyone looking to buy a French lake. It has more lakes than any other region of France and is the region to the north of Dordogne You can sometimes get a lake with a cabin for the anglers to stay in, although there are usually no main services to the cabin.
Lakes such as this one look to be the most amazing place to fish amidst peaceful scenery. A hectare+ fishing lake with cabin is likely to cost between €50,000-€100,000.
If you choose to buy a French lake without a cabin you are likely to be able to construct one but need to check this out before buying. Such lakes are on the market from around €30,000. Alternatively you could buy a little, inexpensive house nearby and combine home comforts with your own special fishing lake.
Read About The French Lake District…Limousin and Haute Charente
If you are thinking about buying a French property to indulge in your love of fishing please call me +44 (0)1306 775 008, I would love to share my passion with you.