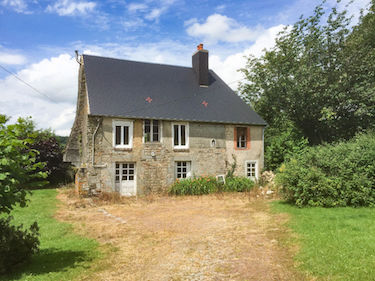 French Property Bargains Galore!
Bargain Property in Normandy France
Great Value For Money Properties In Normandy, La Manche.
House prices in La Manche mean there is superb value to be enjoyed. The average price of property per square metre in France is €3,197 but in La Manche it is only €1,781. This is certainly not because it is not a delightful place to live but reflects the lack of employment in the department. Luckily for most UK buyers employment is not important and in fact the lack of it can be a real advantage as there is a lack of industry all around.
Normandy France has the huge advantage of offering easy access to and from the UK. It also enjoys a really beautiful and long coastline with the spectacular Mont St. Michel as it's showpiece. Long sandy beaches, picturesque coves, bustling little ports and superb fresh sea food all make Normandy an attractive place in which to buy a house. If you add the inland orchards and meadows, pleasant waterways, medieval villages and bustling market towns you begin to see why Normandy may be the best place to look for a house in France. So, with property prices in Normandy amongst the lowest in France it could be worth taking a look at some of the delightful houses which we have for sale.
Buying a property in Normandy can be a joyful experience.
So, a quick overview of what you will get for your money in France:
French Property For €100,000 or less
For €100,000 or less there is a wonderful selection of character French homes. All will require some work but most would make really charming homes.
French Property under €200,000
For €200,000 there is an amazing choice of lovely, detached stone houses or grand village homes in France.
French Property under €300,000
With €300,000 you will have a choice of mouth-watering properties, the selection is irresistible.
Also you may wish to view our new Bargain French Property section.