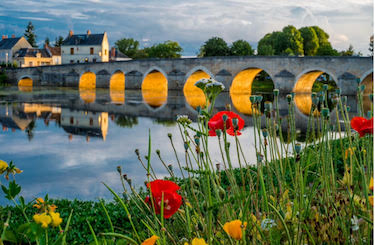 Areas To View Property In France
Loire in the centre of France
For anyone wanting to enjoy the best of French splendour, style and gastronomy the Loire is a part of France that will not disappoint. Loire, as most of us think of it, is not a region of France, it is covers those departements of Centre which have ready access to the River Loire and the area known as Loire is considered to be on the magical dividing line between northern and southern France. The area enjoys a wonderfully mild climate all year round with plenty of warm sun throughout the summer. Property for sale in Loire is not the cheapest on offer in France, being known as the Valley of the Kings it is not really surprising. French royalty built beautiful chateaux all along the banks of the river and today this charming architecture, the delightful scenery, the rivers and the chateaux together with the sophisticated cities of Tours, Angers and Saumur all make Loire a special place to live or holiday.
The area of Loire offers all the attractions of rural France combined with the sophistication generated by French Kings and Queens of earlier days combined with wonderful cycle routes along the river, walks in the royal forests, lakes for swimming and fishing, and unlike some other parts of France it combines these pleasures with a hint of sophistication throughout the year. View Property in Loire France
Limousin, Nouvelle-Aquitaine in France
Limousin, in the region of Nouvelle-Aquitaine, is often referred to as La France Profonde, a name that really describes well not only its location in the very centre, the heart of France, but also the lifestyle it offers, which to many of us resembles all that we enjoyed in the UK 50 years ago. If you are looking to buy a French property then Limousin comes high on my list of very special places to be. It does not offer much in the way of sophistication but Limoges, the capital of Limousin and has fascinating museums, lovely shops, world class restaurants as well as hundreds of Limoges porcelain shops. The whole of Limousin does, however, offer a beautiful, friendly and peaceful way of life with some of the best value property in France. There are numerous lakes with beaches for recreation, lovely French villages properties with market squares and narrow streets, incredibly beautiful countryside for walks and numerous small festivals and fetes designed far more for the local community than for any passing tourist. If you are looking for amazing value property in a beautiful setting then do consider Limousin. View Property in Limousin France
Drome-Provencal, Auvergne-Rhône-Alpes in France
The area locally known as Drôme-Provencal is part of the Auvergne-Rhône-Alpe's region. The departement of Drôme shares many characteristics with its southern neighbour, Provence, hence the reason why the southern third of the Drôme is called Drôme-Provençal. Despite it sharing the 300 days of Provençal sunshine it does not attract as many tourists or people buying French property as Provence, nor are house prices as high. These are some of the reasons that many people decide to look in Drôme-Provençal for a French property to buy but any buyer who ventures here does not fail to fall in love with this wonderful, but little-known area of France. The landscape is one of gentle rolling beauty, with rocky outcrops, waterfalls and rugged mountains rising in the distance. It is the perfect place to simply relax in the lovely surroundings of quaint old villages, sunflowers and olive groves with the almost constant presence of sunshine and above all, it is the extensive lavender fields which colour the landscape purple and perfume the air for much of the summer that make people fall in love. View Property in Drôme-Provençal France
Normandy in France
Normandy is often described as the Devon of France and being just across the channel it is not surprising that there are many similarities. Its gentle way of life, its landscape dotted with lush meadows, orchards and farmland and its long, sandy coastline with pretty harbours have combined to make people from the UK feel very comfortable in this part of France. No wonder when people look to buy property in France, Normandy is often their first search area. From the Norman invasion of England in 1066 to the D-Day landings of 1944, Normandy has played an important part in the history of Europe and its this history that is closely entwined with that of Britain. Away from the stunning coastline there are some of France's finest museums, quiet pastoral villages and architectural gems such as Rouen's medieval old city with its famous cathedral to enjoy. Camembert, apples, cider, cream-rich cuisine and the very freshest fish and seafood provide further reasons to buy a French home in Normandy, View Property in Normandy France
Midi-Pyrenees, Occitanie in France
The Midi-Pyrenees region of southern France has been amalgamated with Languedoc-Roussillon to form the new region of Occitanie. It includes the mountainous section of the Pyrénées along the border between France and Spain, and a large, mainly rural, area that extends north of these mountains and includes Gers (Gascony), Tarn and Tarn-et-Garonne, the Aveyron and Lot departments (just east of the Dordogne) and the departements of Ariège, Haute-Garonne and Haute-Pyrénées, all bordering on the Pyrénées mountains. For anyone looking for a rural lifestyle when they plan to buy property in France in the sun then looking at property for sale in Midi-Pyrénées will offer a selection of beautiful properties at a reasonable price, many with stunning views. The capital of the Midi-Pyrénées region is Toulouse, the attractive red-brick city, which is often referred to as the Pink City as this is the colour it glows when the sun sets. This is a large, busy, modern hub with good transport links to the UK and the rest of Europe. Away from Toulouse there are other lovely towns such as Albi and Tarbes and then there is the enormous swathe of rural landscape with vineyards, rolling hills, sunflower fields, limestone plateaux and even moorland interspersed with traditional villages and hamlets.
Vaucluse, in Provence-Alpes-Côte d'Azur in France
Vaucluse is the heart of Provence, an area full of light where the sun shines on the landscape all year long. It is also one of the most undiscovered and unspoilt parts of PACA. If you are looking for a property in France then investigate Vaucluse which takes its name from the amazing Fontaine de Vaucluse, where the river bubbles out from the ground under enormous pressure. Prices and styles of property are more attractive in Vaucluse than along the coastal stretch of Provence. The area is one of contrasting landscapes from farmland and vineyards to cedar and oak forests. From the medieval town of Avignon, sitting alongside the River Rhône with its famous bridge and protected by the ramparts of the Palais des Papes to the magnificent Mont Ventoux, with its limestone summit and lavender clad foothills, you will discover a land of contrasts. This is 'real' Provence, a place where people live all year round, Vaucluse is a part of Provence not just for holidaying but for creating a life in the sun.
Languedoc, Occitanie in France
The Languedoc-Roussillon region has been amalgamated with Midi-Pyrénées to form the new region of Occitanie. This is an area that is sometimes referred to as the 'Real South of France' – thanks to its largely unspoilt countryside, traditional wine-making villages and slower, Mediterranean pace of life. Property buyers from all over the world are attracted to buy French property in Languedoc because it still feels very traditionally French with villages that aren't emptied in winter, and good food and wine that doesn't cost the earth. Here, you'll find unspoilt landscapes of undulating vines punctuated by rocky outcrops and umbrella pines. Along the Pyrénées Orientales coastline there is a stunning backdrop of snow-capped mountains. It's great to be wind-surfing on a beach in the morning and skiing in the mountains in the afternoon. The towns and pretty medieval villages of Languedoc have a sense of sophistication with huge amount of bars and restaurants to cope with the summer visitors. There are exclusive beach clubs along the sandy beaches of Herault and yet there is peace and quiet once you leave the Mediterranean coast behind and head to the hills, Fêtes and festivals happen throughout the year and you are always aware of the proximity of Spain with flamenco singing and dancing and bull running competitions most weekends of the summer months. And, of course, there are those 300 days of sunshine a year! View Property in Languedoc France
Dordogne, Nouvelle-Aquitaine in France
Few areas sum up the attractions of France to the UK property buyer better than the Dordogne. If you are Looking for Property in France Dordogne is situated in southwest France and enjoys easy access from the UK and a wonderful climate, not as hot as the Mediterranean coastal stretch but with nearly as much sunshine. Many foreigners looking to buy a French property find it in Dordogne. With its rich food, heady history, château-studded countryside and picturesque villages, the Dordogne has long been a favourite place for a holiday or full time home for Brits. House prices, although representing a real bargain, are not as cheap as in Limousin to the north, but the architecture and scenery provide justification for paying that extra price. The countryside is studded with fortified towns (bastides), limestone hills, oak forests and vineyards and, of course, the splendid River Dordogne winding its way throughout the countryside. The villages and towns delight with their architecture and there can rarely be a better way of spending a morning than enjoying a coffee, while people watching, in a pavement café in a historic market square.
Charente in France
The Charente department of France is the south-eastern part of Nouvelle-Aquitaine and is situated in southwest France to the north of the Dordogne department. Charente is currently the most popular departement of France with British buyers of French property. Not only do they offer extremely good value but the scenic highlights of Charente itself are very attractive. From exploring the course of the river Charente with opportunities for lazy boat trips and days spent fishing to quietly enjoying the countryside, Charente offers holidaymakers and inhabitants a peaceful, rural way of life. You are never far away from fields of golden sunflowers wherever you are in this part of France but if you need something less rural from time to time then Angoulême, Confolens and Cognac all offer the opportunity to explore their bustling streets and do a little shopping in the lovely markets. View Property in Charente France
Lot-et-Garonne, Nouvelle-Aquitaine in France
Nestling in the heart of southwest France, bordered by Périgord, Quercy, Les Landes and Gascony, the Lot-et-Garonne is a well kept secret. It's medieval villages, sunflower fields, quiet roads and small farms in gently rolling countryside also boast proximity to the charms of Agen, its capital city. People looking to buy a home in France often choose Lot-et-Garonne because of its delightful mix of rural charm and city sophistication. The two rivers, from which the department takes it name, offer 3,500 km of navigable waterways with numerous walking trails and cycle routes. The countryside abounds in plum orchards, Agen prunes probably being its most famous product. In season these plums are sold in every market and out of season they are enjoyed as the famous Agen prune. There are also beautiful bastide towns, castles and manor houses, dovecotes and windmills. The Lot-et-Garonne offers the perfect combination of things to do and see and a perfect place to relax and unwind. View Property in Lot-et-Garonne France View all Property in France
Gard, Occitanie in France
Gard, originally part of Languedoc-Roussillon and now part of the enlarged region called Occitanie, is often overlooked by people looking to buy property in the south of France. It has less Mediterranean coastline than all the other departements which are situated along the Med but what it lacks in coastline it makes up in every other way possible. The eastern boundary of Gard is the River Rhône and takes in the magical area of France known as the Camargue. This is the mouth of the enormous river Rhône where the flat land supports the growing of rice, the grazing of black bulls and the livelihoods of cowboys. Pink flamingoes abound in the area and white horses run wild. There is nothing else like the Camargue in the whole of France. Gard also boasts the chestnut tree covered hills of the Cevennes where Robert Louis Stevenson walked with his donkey. In between these two delightful areas are some of the most beautiful medieval towns, full of amazing architecture, lovely restaurants, bustling markets and pavement cafes where you can sit for hours watching people go about their daily lives. For me, there is nowhere in France as special as Uzès. I challenge you not to fall in love with it! House prices are more expensive in Uzès than in other parts of Gard, but there is no doubt that they are worth it.
Gers, Occitanie in France
Gers was part of Midi-Pyrenees and has now been amalgamated with Languedoc-Roussillon to form the new, enlarged region of Occitanie. It is situated on the border with Les Landes and Lot-et-Garonne in Nouvelle-Aquitaine and is the most western departement in Occitanie. Gers is often referred to by its old name of Gascony which name has become synonymous with gourmet food and drink. Restaurants in Gers are almost certain to produce some wonderful seasonal regional food whenever you visit. The rural landscape is one of rolling hills, sunflower fields and vineyards and this is interspersed with hillside fortified towns, with castles, abbeys and with lovely villages many with arcaded market squares. The area has not been overpopulated with British buyers and is well worth investigating if you are looking to buy a French property a little off the beaten track.
Quick Links: French Property Under 100k, French Farmhouses, French Village Houses, Chateau in France for Sale, French Coastal Property, New Build Property France, Apartments in France, Hotels for Sale in France. French Property for Sale,